YES, there will be beer.

Why YES, that WAS Holly Morris interviewing the DC Rollergirls on Fox 5 this week in a three part series.
http://www.myfoxdc.com/dpp/mornings/holly_live/092209_holly_morris_dc_rollergirls

YES, tix are $12 for grownups, $6 for kids 11 and under and FREE for kiddies under 6.

YES, you can sit up close and near the action but don't say I didn't warn you.

YES YES YES, please come join us THIS SUNDAY for our BACK TO SCHOOL BRAWL!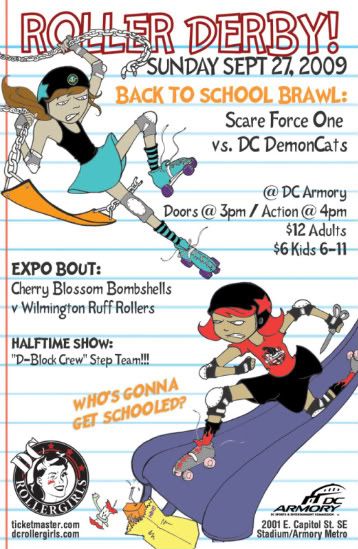 DC ROLLERGIRLS
THIS SUNDAY 9/27
Doors 3pm, Action 4pm
DC ARMORY, Stadium Armory Metro
dcrollergirls.com


Tickets available at:
ticketmaster.com
or onsite at the bout!